Faculty Performances
MacPhail Faculty Recital
Program
Rhapsody No. 2 for Solo Violin…………………………………………………………………….. Jessie Montgomery
Ashley Ng, violin
Neoyoung Nayoung (You and I) …………………………………………………………………………………………. Korean Folk Song
arr. Ja-Young Choi
Taepyeongga (Song of Peace)
Gunbam Taryeong (Roasted Chestnuts Song) …………………………………………………………………………… Korean Folk Songs
arr. Young-Sang Kim
Mikyoung Park, voice
Soojin Lee, gayageum
Michael Min, Piano
Selections from Katcina Dances Suite…………………………………………………………………….. Louis Ballard
Rebecca Merblum, cello
Pınar Başgöze, piano
Sonata del Caminante……………………………………………………………………………………………… Leo Brouwer
I. Vision de la Amazonia
II. El gran Sertão
III. Danza Festiva
IV. Toccata del Nordestina Austin Wahl, guitar
---
Performers
Dr. Ashley Ng, Minnesota violinist, is a freelance musician and music teacher based in the Twin Cities.
Serving as the Associate Principal Second Violinist with the South Dakota Symphony Orchestra and Concertmaster of the Minnetonka Symphony Orchestra, Ashley enjoys performing in orchestral and chamber music ensembles throughout the Midwest.
Passionate about performing new music, Ashley is a founding member of the 10th Wave Chamber Music Collective: a musician-led ensemble that collaborates with both local and historically excluded artists and composer of color to perform new music and provide an inclusive concert experience throughout the Twin Cities and online communities.
Ashley is proud to be a faculty member of the MacPhail Center for Music where she began her musical studies as an 8-year-old. Ashley is involved both as a private teacher as well as working with group classes and MacPhail's School Partnerships program. Most recently she took on the role of assistant conductor with the New Horizons Orchestra in 2022. Ashley has also been a faculty member at Yinghua Academy's Music Conservatory, Roseville Summer Orchestra Camp, and Mounds View Schools Summer Orchestra. In addition to completing her Doctor in Musical Arts at the University of Minnesota, Ashley also holds a Bachelor's degree from The Boston Conservatory and a Master's degree from Boston University in violin performance. Her former teachers include Young Nam Kim, Lucia Lin, Lynn Chang, and Cheryl Stewart
---
Dr. Mikyoung Park, is a lyric soprano from Seoul, South Korea. Dr. Park has a DMA in voice performance and received a Voice Pedagogy Certificate at the University of Minnesota. She received a BM and MM from Seoul National University (SNU) and also completed the Opera Institute program at SNU. She has been an avid member of the National Association of Teachers Singing (NATS). Besides her vocal career, Dr. Park holds a Master of Sacred Music degree from Luther Seminary. Currently, she is a voice and piano faculty at MacPhail Center for Music and a music director at Living Spirit UMC.
---
Dr. Soojin Lee is a professional performer on the gayageum (a traditional Korean string instrument, pronounced /ka-ya-kum/ and a music educator and researcher. She started to learn the gayageum and gugak (Korean traditional music) when she was 13 years old and went to the National Gugak (Korean traditional music) High School, which is fully supported by the Korean government to foster young gugak performing artists. Dr. Lee holds a bachelor's and a master's degrees in gugak (specializing in gayageum performance) from Seoul National University, South Korea. Before coming to the United States, Dr. Lee worked as a gayageum teacher for the National Gugak High School, her alma mater. She wanted to understand gugak from a wider perspective, so she studied ethnomusicology and received a master's degree from the University of California, Irvine, then received her doctorate at the University of Minnesota in 2018, focusing on multicultural music education and indigenous music education.
Dr. Lee is much sought-after by educational and arts institutions for lecture demonstrations on gugak and the gayageum. She presented Korean Music sessions multiple times at MMEA (Minnesota Music Educators Association) Winter Clinic to help teachers find accessible ways to learn and teach gugak. And Dr. Lee has received multiple grants from the MacPhail Center for Music, where she works as a faculty member, and from the Community Engagement Leadership Team of the University of Minnesota. In 2023, she was awarded Creative Support for Individuals grant to collaborate with musicians from diverse backgrounds from Minnesota State Arts Board.
---
Korean-American pianist Dr. Michael Min has performed as a soloist, chamber musician, and concerto soloist, maintaining an active international career as a concert pianist in Romania, Colombia, South Korea, and the United States. He has performed in prestigious venues such as Weill Recital Hall at Carnegie Hall, the KEPCO Art Center, Hinton Hall, Lloyd Ultan Recital Hall, Ted Mann Concert Hall, Dinu Lipatti Recital Hall (National College of Arts), and Luis A. Calvo Hall, among others.
Michael Min earned his Doctor of Musical Arts degree in Piano Performance from the University of Minnesota – Twin Cities, where he also received his Master's degree in Collaborative Piano and Coaching. He also holds a Master's degree in Piano Performance from Middle Tennessee State University and a B.A. in Piano Performance from Sahm-Yook University in Seoul, Korea. His former teachers include Sook-Jin Lee, Joo-Soon Lee, Won-Eui Lee, Dr. Adam Clark, Dr. EunByol Ko, Dr. Timothy Lovelace, and Dr. Kyung Kim.
---
Based in Minneapolis, Rebecca Merblum is a frequent substitute with the St. Paul Chamber Orchestra and the Liquid Music series. In addition, she was a guest artist with the acclaimed Cavani Quartet in 2018 and 2019. This collaboration furthered her connection to string quartets, as a former member of the Artaria Quartet (2016-2017) and a founding member of the Azmari Quartet, the Corbett Ensemble in Residence at Northern Kentucky University (2004-2009).
Ms. Merblum also enjoys performing engagements with the Cincinnati Symphony, Los Angeles Chamber Orchestra and has performed in the past as a guest artist with the Salastina Chamber Music Series, Sundays at LACMA, the Green Umbrella Series (Los Angeles Philharmonic) and Classical Encounters. Additional chamber music performances involved collaborations with Michele Zukovsky (LAPhil), Martin Chalifour (LAPhil), Ronald Leonard (LAPhil), Andrew Schulman (Los Angeles Chamber Orchestra) and Panic Group, an ensemble dedicated to the presentation of new music. Rebecca was also a substitute with both the LAPhil and LAOpera from 2010-2016 and can be heard on several film soundtracks.
Rebecca was recently recognized for the breadth of her work with a 2022-2023 McKnight Fellowship Grant.
---
Pınar Başgöze, a native of Ankara, Turkey, received her B. A. and M. A. degrees in piano performance at Hacettepe University Ankara State Conservatory in Turkey. After winning the third prize in The British Council the Young Musician of the Year Piano Competition Turkey in 1998, she studied Piano Pedagogy and Performance with Professor Maria Curcio in London. Following that she moved to Minnesota in 2000 to study piano performance with Dr. Paul Shaw at the University of Minnesota School of Music. Pınar is the cofounder of a piano duo, Duo Harmonia, with pianist Susana Pinto, a native of Lisbon, Portugal. Their duo received 2018 MacPhail Artist Development Grant, funded by The McKnight Foundation, to record their debut CD, Harmonia. Pianist Pınar Başgöze received the Minnesota State Arts Board Artist Initiative Grant FY 2020 for commissioning pieces for piano duet and narrator based on Minnesotan, Portuguese, and Turkish folk tales. Composers from three different countries wrote music for this endeavor, premiered in May 2022 by Duo Harmonia. Pınar is a full-time piano faculty member at MacPhail Center for Music, married to Jon Iverson, also a member of MacPhail Piano Faculty, and skillfully managing a life filled with teaching piano, performing, and raising her family.
---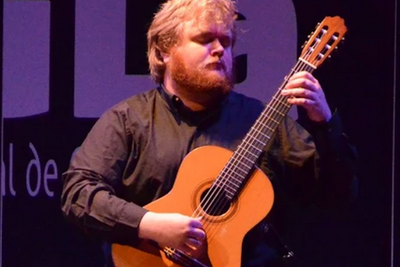 Dr. Austin Wahl is an internationally acclaimed performer and teacher. With nearly thirty competition prizes, including ten first place finishes, he is among the most successful of today's American guitarists. He embraces traditional and unusual repertoire in performance and competition, ranging from well-known works of Bach, Sor, and Tarrega, to lesser known masterpieces by composers including Gary Ryan, Roland Dyens, and Hans Werner Henze. In addition to classical guitar, Wahl also frequently performs and teaches rock and bluegrass guitar, as well as classical and folk mandolin. He holds bachelor's, master's, and doctoral degrees as well as a performer's certificate from the Eastman School of Music, where he studied with Nicholas Goluses.