Student Performances
Concerto & Aria Concert, Part 2
Christian Garner, piano student of Suzanne Greer
Piano Concerto No. 20 in D minor, K. 466 by Wolfgang Amadeus Mozart
Mvt. I: Allegro
Autumn Langdon, voice student of Manon Gimlett
"Hello! Oh, Margaret, It's You" from The Telephone by Gian Carlo Menotti
Allie McIntosh, violin student of Tamara Gonzalez
Le quattro stagioni (The Four Seasons): Concerto No. 4 in F minor, Op. 8, RV 297, L'inverno ("Winter") by Antonio Vivaldi
Mvt. I: Allegro non molto
Mvt. II: Largo
Mvt. III: Allegro
Mae Monette, piano student of Reiko Imrie
Piano Concerto in G major by Maurice Ravel
Mvt. I: Allegramente
Christian Garner is a 12-year-old pianist and sixth grade student at Minnetonka Middle School West. A student of Suzanne Greer, he will perform Piano Concerto No. 20 in D minor, K. 466 by Wolfgang Amadeus Mozart, Mvt. I: Allegro.
As a pianist, he has played in Minneapolis Music Teacher Forum recitals, and participated in the Minnesota Music Teacher's Association's contests as a 3-time winner. He received RCM's highest achievement in the state for 3 years, and participated in master classes with Mary Ann Swallum and Richard Tostensen. A participant in the Minnesota Federation of Music Clubs Festival with a 6-time Superior Rating, Christian enjoys preparing his Suzuki Book recitals. As a trumpet player, Christian is principal trumpet GTCYS Philharmonic orchestra and a 2-time semi-finalist in the National Trumpet Competition. He plays in No-Limits Brass Choir.
Christian is an avid classical music listener who likes Mahler's symphonies (especially his fifth and sixth). He loves to fly RC airplanes and to fly in flight simulators. Christian participates in his school's teams for track & field (100M, high jump & long jump), cross country running, and tennis.
"The experience of playing in the Concerto & Aria Concert was truly amazing. Playing the concerto with the orchestra made me love the music even more. It was awesome to play with the orchestra and something I hope to do again someday!"
Autumn Langdon is a 17-year-old classical vocalist and eleventh grade student at Delano High School. A student of Manon Gimlett, she has previously worked with Mikyoung Park. She will be performing "Hello! Oh, Margaret, It's You" from The Telephone by Gian Carlo Menotti.
Autumn is a member of the Honors Performance Series and sang with them in New York's Carnegie Hall and Sydney, Australia's Sydney Opera House. She is a member of the Minnesota ACDA Honor Choir, and recently performed in the Minnesota All-state choir. At MacPhail, she also participates in a singer/actor performance lab called Prelude where she learns different tools of the trade in a variety of musical genres including theater, opera, and pop.
Outside of music, she is a member of the National Honors Society, a nationally recognized organization for students with a GPA of 3.60 or more, and was just voted in as the secretary.
"It is nice to be recognized by the school for all of the hard work that goes into the pieces."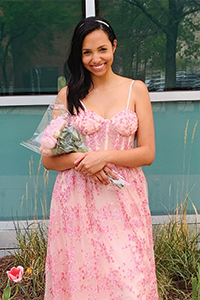 Allie McIntosh is a 15-year-old violinist and tenth grade student at the Breck School in Golden Valley. A student of Tamara Gonzalez, she has also studied with Heather VanderLey, Diana Woit, and Richard Tostenson. Allie will be playing Le quattro stagioni (The Four Seasons): Concerto No. 4 in F minor, Op. 8, RV 297, L'inverno ("Winter") by Antonio Vivaldi, Mvt. I: Allegro non molto, Mvt. II: Largo, Mvt. III: Allegro.
Allie is a singer-songwriter who composes her own popular music/alternative music and produces it. She recently released an EP (which is out on iTunes, Spotify, and more). This past summer, she was accepted into NYU's songwriting camp. She worked with fantastic songwriters and producers there. She also plays the viola and participated in a violin master class with Michael Sutton. She's completed The Crescendo Program for piano, and has participated and received high honors from The Royal Conservatory program for violin.
At school, she's participated in musicals such as Beauty and the Beast, Chicago, and A Virtual Cabaret. She serves as The Concert Master of one of the student orchestras "Chamber" at MacPhail. She's participated in MacPhail's orchestras ever since she first started violin. When she was younger, Allie attended the summer Suzuki Camp in Steven's Point, Wisconsin. She performed in the camp's honors recital at nine years old. She also had the high honor of receiving piano lessons from Dr. Paul Shaw at the University of Minnesota at twelve years old.
Allie enjoys spending time with nieces and nephews, making soap, and practicing yoga. She is an avid Legends of Zela player and likes watching anime.
"I'm very excited! When I was eleven years old, I auditioned for the Concerto & Aria concert on piano. I made it through the first round but was not selected after the second. However, I did receive an honorable mention for my audition which made me happy. This year, I put in a ton of work into my Vivaldi piece, and I'm so excited that it's paying off!
I would like to say thank you to my teachers (all four of them), my parents, my aunties, my uncle, my siblings, and my friends for supporting me in this musical journey! Also, a big thank you to the members of the orchestra and my accompanist during the audition process. You all were wonderful! And I'm grateful to you, Tami, for conducting, I was so happy to have performed my piece while you were waving the baton!"
Mae Monette is an 18-year-old pianist and twelfth grade student at Providence Academy in Plymouth. A student of Reiko Imrie, Mae will perform Piano Concerto in G major by Maurice Ravel, Mvt. I: Allegramente.
As a pianist, Mae received first prize in the 2019 Minneapolis Music Teachers Forum's Mozart Piano Concerto Competition. In the 2019 YPSCA Concerto Competition, she received the Edwin Norberg Award, and in the 2021 competition, the Judith & David Ranheim Award. A 2018 MPR Minnesota Varsity Featured Round Artist, Mae has participated in 9 MacPhail Honors Recitals, including a finalist in the 2019 Concerto & Aria Recital. She also performed in the MacPhail master class with Seymour Bernstein.
She is a section leader in her school's symphonic, jazz, and pep bands. She was selected for the 2021 Minnesota Music Educators All-State Orchestra, and was accepted into the University of Minnesota Honor Band in 2019 and 2020, receiving the 2018 MN State High School League Solo and Ensemble Competition superior award. As a singer, Mae is a soprano I section leader in school's academy chorale and a member of her school's chamber choir (an auditioned choir selected for the North Central/Central ACDA 2018 Regional convention.)
When not playing music, she is a 2019 Team Section Champion and two-time individual all conference varsity golfer. A historian on her school's theatre council, she has been a cast member in 12 productions, most recently Wednesday Addams in The Addams Family Musical. Mae will be attending Vanderbilt University this fall.
"I am so excited to perform Ravel's Piano Concerto in G Major! It is such a fun piece that stirs the imagination of both the performer and the audience. With this year being my final year as a high school student taking lessons at MacPhail, I am especially happy that I was able to participate in this competition despite everything that happened with COVID this past year. I would like to thank my teacher Reiko Imrie for the many hours she spent helping me develop as a person and a musician, Ginger Reynolds for being my mentor and taking me on countless musical adventures, Miryana Moteva for helping my with my audition recordings and for being such an amazing accompanist, my parents for always being so supportive of my piano career, and my sister Kiara who has been both a great friend and piano duet partner."