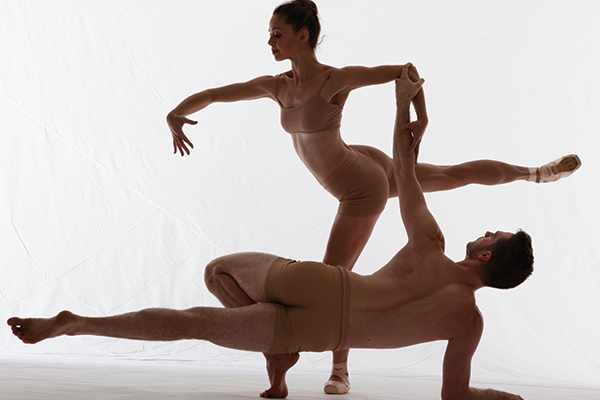 Spotlight Series
MacPhail Spotlight Series: Voyage
This program features choreographies to solo cello works by J. S. Bach and Chad Hughes, in collaboration with the James Sewell Ballet. A professional company of dancers will perform an innovative work that explores the technical boundaries of ballet throughout MacPhail Center for Music's building in downtown Minneapolis.
Rebecca Merblum, cello
Da'Rius Malone, lead choreographer
Mischa Santora, artistic director
James Sewell, founder of the James Sewell Ballet
Chad Hughes, composer
Rebecca Merblum began teaching cello in MacPhail's Individual Instruction department in 2018. Her previous teaching experience includes serving as an Artist in Residence at Northern Kentucky University as a member of the Azmari Quartet from 2004-2009, serving as Faculty and String Department Chair at the Pasadena Conservatory from 2012-2016, and serving as a member of the Artaria Chamber Music School faculty in 2016-2017.
She currently serves as guest cellist with the St. Paul Chamber Orchestra and the Los Angeles Chamber Orchestra. She served as guest cellist with the Cavani Quartet in the fall of 2018. Additionally, she has been a guest with the LA Opera, LA Phil and the Salastina Chamber Music Society. She was cellist in the Artaria Quartet in 2016-2017 and in the Azmari Quartet from 2002-2009.
Rebecca holds a Bachelors of Music from the Cleveland Institute and a Masters of Music from the New England Conservatory.
Chad "Sir Wick" Hughes from Detroit, Michigan, began his training at the University of Michigan in Ann Arbor with a B.Mus in Composition, M.Mus from Kansas State University. He studied under James Aikman, Erik Santos, Bright Sheng, Curtis Curtis-Smith, Craig Weston, and Pulitzer-Prize winning composer William Bolcom. Sir Wick graduated with his PhD from Louisiana State University where he studied with Dinos Constantinides and Carlos Riazuelo in Music Composition and Orchestral Conducting, respectively. His compositions and arrangements have been premiered and performed by the Cleveland Chamber Symphony, Morehouse College, Graceland University, Indianapolis Pops Symphony, University of Memphis, University of Michigan, Baker University, Alcorn State University, Bowling Green State University, University of Tennessee-Chattanooga, Tennessee State University Clark Atlanta University, and Montana State University. Sir Wick has been commissioned by Weston Sprott, Acting Principal Trombonist of the Metropolitan Opera Orchestra; Demondrae Thurman, Associate Professor of Low Brass at Samford University, and Kenneth Thompkins, Principal Trombonist of the Detroit Symphony Orchestra. His interests in classical, jazz, gospel, and rhythm and blues genres are reflected in his debut album, Interpretation of a Universal Language. Professional experience in various genres has allowed "Sir Wick" to perform with notables such as the Temptations, Martha Reeves, Marcus Belgrave, and Kid Rock.
Da'Rius Malone, from Chicago, IL, began his training under the direction of August Tye at Hyde Park School of Dance. Da'Rius is a 2014 graduate of The Chicago High School for the Arts (ChiArts), where he won the award for Scholar-Artist and had the privilege to perform works from leading Chicago dance companies such as DanceWorks Chicago, Hubbard Street Dance Chicago, Muntu Dance Theater, and Joffrey Ballet. Da'Rius continued his training at The Boston Conservatory at Berklee. Da'Rius is a 2018 graduate with his BFA in Contemporary Dance Performance with an Emphasis in Ballet. After his time at The Boston Conservatory Da'Rius was asked to join Jon Lehrer on his European Tour as a guest artist. In 2018, Da'Rius became a company member at James Sewell Ballet.
​Da'Rius has performed works by Doug Varone, Joshua Manculich, Merce Cunningham, and Danny Buraczeski. He has also danced in several world premieres of choreography by Gabrielle Lamb, MADBOOTS, and Yury Yanowsky. Da'Rius has performed excerpts of Don Quixote and Raymonda restaged by former Boston Ballet principal dancer Adriana Suarez and Gianni DiMarco.
​Da'Rius has also trained with the Kibbutz Contemporary Dance Company (Israel), Hubbard Street Dance Chicago, Alonzo King Lines Ballet, American Ballet Theatre, Ballet Austin, Deeply Rooted Dance Theater, and 10 Hairy Legs. Da'Rius wants to use his dance education and experience as a professional concert dancer to create a platform to make a positive impact in life.
Chloe Duryea (4th season) received her early dance training near her hometown of Haslett, Michigan. Upon attending the American Ballet Theatre (ABT) Summer Intensive in Detroit, she was selected by ABT as a National Training Scholar in 2007 and 2008 and subsequently attended the ABT Summer Intensive for two years as a full-scholarship student. Chloe graduated from Indiana University's Jacob School of Music with Highest Distinction, earning a Bachelor of Science in Ballet with an Outside Field of Kinesiology. While dancing with Indiana University Ballet Theatre, she was featured in Twyla Tharp's Sweet Fields, Dwight Rhoden's Dear Frederic, and as Princess Aurora in Act II and Act III of The Sleeping Beauty. After graduating from IU, Chloe was given the opportunity to perform George Balanchine's Nutcracker Pas de Deux and Robert Rodham's Snow Scene with the Indianapolis School of Ballet. Chloe then moved to Chicago, where she spent two years as a company dancer with Elements Contemporary Ballet, and performed as a guest artist in the Ruth Page Civic Ballet Nutcracker.
Jarod Boltjes (2nd season) is a Minnesota native from Adrian, MN. He started his dance training at Saint Mary's University where he also obtained his BA Degree in Dance Performance and Studio Art. His formal dance training began at the age of 18 in college where he had the opportunity to train and perform internationally with Rose Bruford College in the U.K. and The Gaiety School of Acting in Ireland. Upon arrival to the Twin Cities, Jarod has worked with several local companies; Contempo Physical Dance, Twin Cities' Ballet, Collide Theatrical, and St. Paul Ballet to name a few. If he is not in the dance studio, you can find him leading class as a certified barre and yoga instructor or under the big top tent coaching and choreographing for Circus Juventas.