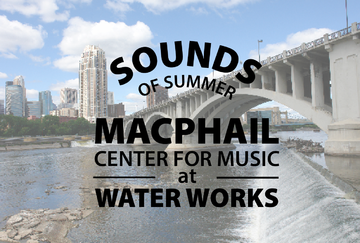 Festivals
MacPhail at Water Works: Sounds of Summer
Festival's Schedule
3-3:30 pm Student Performances
3:45-4:30 pm MacPhail Percussion Ensembles featuring Rimshots! and Triptych
4:45-5:05 pm MacPhail Community Youth Choir (MCYC) led by J.D. Steele
5:15-6:00 pm Michael Cain Trio (with Kevin Washington and Anthony Cox)
6:15-7pm Featured Guest Artist: Ignacio "Nachito" Herrera
All are welcome to this free, outdoor event
MacPhail at Water Works presents Sounds of Summer with performances by MacPhail faculty and students. A variety of ages, styles, and instruments will make this an afternoon to remember. Moving into evening, the event culminates with a special concert by Nachito Herrera and his trio described by the Star Tribune as "Explosive. Crowd-pleasing. Rhythmically intense. Romantic. Dynamic. Jaw-droppingly good."
About Nachito Herrera
Recognized as a young genius, Ignacio "Nachito" Herrera stunned Cuban audiences at the age of 12, performing Rachmaninoff's Concerto No. 2 with the Havana Symphony Orchestra. Famed Cuban pianist and Buena Vista Social Club member, Ruben Gonzalez invited the 16-year-old Nachito to join him on stage and inspired the teenager to study the traditional rhythms of Cuba. Herrera's classical grounding, natural abilities, and enthusiasm for his subject paid off. In addition, Herrera has studied with Cuban masters; Chucho Valdes, Ruben Gonzalez & Frank Fernandez.
About Water Works
Water Works brings visitor services and recreational and cultural amenities to one of Minnesota's most highly visited destinations – St. Anthony Falls and the Stone Arch Bridge. Visit the Minneapolis Park and Recreation Board's Water Works Park Pavilion page.
The park and pavilion were conceived through years of engagement with community and are designed to reveal layers of untold stories, in acknowledgement of the location as both the birthplace of the city's milling history and a spiritual place that has shaped cultural and economic connections for Indigenous people.
MacPhail is excited to host this special event at what is sure to be an iconic Minneapolis outdoor cultural spot.