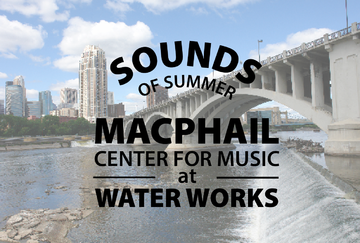 Festivals
MacPhail at Water Works: Sounds of Summer
All are welcome to this free, outdoor event
MacPhail at Water Works presents our second Sounds of Summer with performances by MacPhail faculty and students. A variety of ages, styles, and instruments will make this an afternoon to remember. Moving into the evening, the event culminates with a special concert by Michael Cain and his trio.
2023 Festival Schedule
3:00-3:30 Rimshots! MacPhail's premier percussion ensemble
3:45-4:15 MacPhail Student Soloists
4:30-5:15 MacPhail Faculty Jazz Combo (see below for musicians)
5:30-6:00 MacPhail Community Youth Choir with JD Steele
6:00 Special MacPhail Announcement
6:15-7:00 Michael Cain Trio
Michael Cain & the Michael Cain Trio
Michael Cain, piano
After moving to New York in 1990, Cain became a first call pianist, working with drum legend Jack DeJohnette for nine years, as well as Dave Holland, Steps Ahead, Ravi Coltrane, Bobby McFerrin, Stanley Turrentine, Lauren Hill, Joshua Redman, Pat Metheny, Charles Neville, Christian McBride, John Scofield, Robin Eubanks, and Meshell N'degeocello, among others.
His numerous awards include a 2006 Grammy nomination for Dance of the Infidel, Meshell N'degeocello's release on which Michael is pianist and co-arranger. He has recorded several records as a leader including Circa, a 1996 ECM release which featured Ralph Alessi and Peter Epstein, and served as producer for several recordings including Ron Blake's Shariya, and Brian Landrus' Traverse and Capsule.
Other Notable projects include serving as musical director for the Jose Limon Dance Company, scoring the films Maybe and Real With Me, by director Carl Ford for Black Nexxus Films, and composing the music for the Broadway play View from 151st Street, which ran at the George Papp Public Theater in New York in the fall of 2007. Most recent, Michael produced the Western Canadian recording "Rebirth of the Cool" for Cellar Live Records. During the summer of 2018 Michael toured with legendary trumpeter and composer Terence Blanchard.
As an educator Michael has been a Professor at the Eastman School of Music, the New England Conservatory of Music, the University of Minnesota, and Brandon University in Brandon, MB, Canada. Michael's latest release is entitled Hoo Doo and is available on iTunes and other platforms.
Ted Olsen, bass
Ted Olsen is a musician from Minneapolis, MN who plays double bass and bass guitar.
As a composer, he focuses on creating bright moments within the framework of spontaneous group interplay. As an instrumentalist, he plays with a bouncy rhythmic vitality and a fiery optimistic spirit.
As a bandleader his groups have been featured at the Twin Cities Jazz Festival, The Artists' Quarter, and Icehouse. He has also performed at Nocturne Jazz Club in Denver, CO and Festival No Improviso in Curitiba, Brazil. In 2017 he released his début record, Joyfire, on Shifting Paradigm records. In 2019 he was named an alternate to the International Society of Bassists' Jazz Competition. He has been a stalwart of the Twin Cities music scene for the past decade and is regularly enlisted by top jazz luminaries.
Angelo Stokes, percussion
Angelo L. Stokes can effortlessly be described as a "Universal Percussionist" and has accomplished what many men only dare to dream and are unable to fathom. Angelo has been a protégé of Marcus Belgrave since the tender age of 16 while he attended The Detroit School for the Performing Arts and has had the distinction of performing with Aretha Franklin, Toni Tennille, Lou Rawls, Bo Diddley, Stevie Wonder and an innumerable amount of other internationally respected musicians. Angelo has increased his classical ability and discipline on various percussive instruments as a former member of the United States Air Force Band of The West and as a private music instructor. He continues to innovate and re-establish the world of the percussive arts with a sundry of global techniques learned through continued studies and the modest acknowledgement that his gift will only be made stronger through the acceptance of acumen from the artists that he has the privilege of sharing the stage with.
MacPhail Faculty Jazz Combo
Christopher Rochester (saxophone), LA Buckner (drum set), Greg Byers (bass), Bryan Nichols (piano/keyboard), Lasse Corson (piano/keyboard), Charmaine Douglas (vocals), Greg Keel (clarinet)
Here is a recap of Sounds of Summer July 2022. We hope you can join us at this year's event. It's going to be UPTEMPO.
About Water Works
Water Works brings visitor services and recreational and cultural amenities to one of Minnesota's most highly visited destinations – St. Anthony Falls and the Stone Arch Bridge. Visit the Minneapolis Park and Recreation Board's Water Works Park Pavilion page.
The park and pavilion were conceived through years of engagement with community and are designed to reveal layers of untold stories, in acknowledgement of the location as both the birthplace of the city's milling history and a spiritual place that has shaped cultural and economic connections for Indigenous people.
MacPhail is excited to host this special event at what is sure to be an iconic Minneapolis outdoor cultural spot.