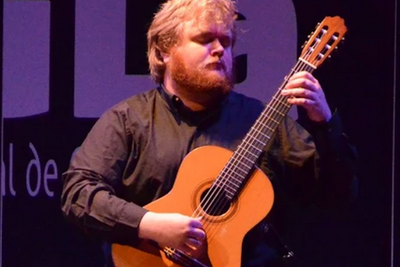 Austin Wahl is an internationally acclaimed performer and teacher with nearly thirty competition prizes, including ten first-place finishes. He embraces traditional and unusual repertoire in performance and competition, ranging from well-known works of Bach, Sor, and Tarrega, to lesser-known masterpieces by composers including Gary Ryan, and Hans Werner Henze. Wahl premiered his groundbreaking solo transcription of Aaron Copland's Rodeo suite (originally for orchestra) in February 2021. He is currently composing a solo guitar suite based on notable international events of the Cold War.
Recent concerts and masterclasses include engagements for Rochester Classical Guitar (NY), Minnesota Guitar Society, Great Lakes Guitar Society (NY), Southern Guitar Festival (SC), Guitar Society of Toronto, Guitar Hamilton (Ontario, Canada), and Festival Internacional de Guitarra en Lagos (Jalisco, Mexico).
Wahl does not limit himself to classical guitar, or indeed to the guitar itself.
Since childhood he has been a proficient bluegrass guitarist, performing arrangements and compositions by Doc Watson, Tony Rice, David Grier, and Adam Granger, among others. Wahl has performed with several bluegrass groups, including Great Vagrant, The Crooked North, and Kubick's Rubes, and performed with the first in a masterclass for legendary banjoist Béla Fleck. He also is an avid fingerstyle player, often programming pieces by Preston Reed, Don Ross, Andy McKee, and Pierre Bensusan. Wahl is an experienced electric guitarist, performing and teaching rock, blues, and jazz – and even built his own electric guitar, dubbed the "Wahl-o-caster."
Beyond the guitar, Wahl is an accomplished mandolinist. He performs and teaches classical and folk music on the instrument, including solo and ensemble works of J. S. Bach, American bluegrass, Irish fiddle, and Scandinavian traditions. Additionally, from 2017 to 2022, he served as the bass section leader for a Rochester, New York community choir, the Mount Hope World Singers, who perform outreach concerts in languages and styles from around the world.
Wahl is a dedicated teacher across multiple genres. He strongly believes in the power of the guitar to transcend the style in which it is played, and to spark student interest in crossing between genres. Prior to MacPhail, he taught at the Kanack School of Musical Artistry in Rochester, NY. His students have ranged in age from under five to over seventy, and represent diverse musical and national backgrounds.
Wahl began his guitar studies at age five at MacPhail with Alan Johnston, a founding member of the Minneapolis Guitar Quartet. He holds bachelor's, master's, and doctoral degrees as well as a performer's certificate from the Eastman School of Music, where he studied with Nicholas Goluses. Wahl has also taken the Book 1 and Book 2 Suzuki method courses with Mary Lou Roberts and Andrea Cannon, respectively.
Austin Wahl teaches Suzuki and traditional classical, acoustic, and electric guitar as well as folk and classical mandolin at MacPhail Center for Music in Minneapolis.