New Faculty at MacPhail
The dedicated artists at MacPhail teach, write, record, and perform just about every style of music there is.
Lessons are available for 35 instruments and voice, composition, songwriting, electronic music, and the recording arts. MacPhail center for Music offers lessons online or in-person at one of our five locations.
Questions? Please call 612.321.0100 or email services.student@macphail.org
Meet some of our newest teaching artists…
Ellie Dehn, voice (Minneapolis and Chanhassen)
Beloved by critics and audiences alike, American soprano Ellie Dehn has shared her exceptional skills with many of the world's finest opera houses and orchestras, including The Metropolitan Opera, Teatro alla Scala, Royal Opera House, Bayerische Staatsoper, San Francisco Opera, Los Angeles Opera, Houston Grand Opera, San Diego Opera, Santa Fe Opera, Minnesota Opera, Lyric Opera of Kansas City, Accademia Nazionale di Santa Cecilia, and the opera houses of Geneva, Palermo, Napoli, Rome, Bilbao and Bologna. Hailed for her versatility, she revels in productions and oratorio work encompassing an exceptionally broad repertoire, and she has emerged as a specialist in works by Mozart.

Miss Dehn remains on the roster of the Metropolitan Opera, and recently returned from a Japanese tour with the Seiji Osawa Music Academy as Rosalinde in Die Fledermaus. Career highlights include multiple appearances with San Francisco Opera, including the title roles in Manon and Arabella, as well as all three Mozart/Da Ponte heroines: the Countess in Le Nozze di Figaro, Donna Anna in Don Giovanni, and Fiordiligi in Cosi fan tutte. She debuted at Royal Opera House Covent Garden as the Countess in Sir David McVicar's production of Mozart's Le nozze di Figaro, which was broadcast live in HD to movie theaters around the world. She made her Metropolitan Opera debut as Marguerite in Faust (which was a part of the Met in the Parks series), followed by returns as Mrs. Naidoo in Philip Glass' Satyagraha, Musetta in La bohéme and Donna Elvira in Don Giovanni. She also made her Teatro alla Scala debut as Antonia in Les Contes d'Hoffmann and return as Musetta, as well as countless other engagements worldwide. Coloradans may remember her from her Opera Colorado appearances as Donna Anna in Don Giovanni and the Countess in Le Nozze di Figaro, as well as Violetta in La Traviata with Central City Opera.
At Carnegie Hall, she has performed Mozart's Mass in C minor, Bach's Magnificat, Vivaldi's Gloria, and Haydn's Harmoniemesse. Recent highlights of orchestral engagements include performances of Beethoven's Symphony No. 9 with the Dallas Symphony Orchestra and the St. Louis Symphony. Ellie also joined the acclaimed International Contemporary Ensemble for the New York premiere of Messiaen's Chants de terre et de ciel at the Mostly Mozart Festival, and joined Eve Queler and the Opera Orchestra of New York as Inez in Meyerbeer's L'Africaine and Jemmy in Rossini's Guillaume Tell. She has also been a soloist with such orchestras as the Cleveland Orchestra, American Symphony Orchestra, Minnesota Orchestra, Academia di Santa Cecilia, New Jersey Symphony, Florida Orchestra, San Antonio Symphony, Orquesta Sinfónica Nacional in Mexico City, Milwaukee Symphony, and many others.

Honors and awards include first place in the Gerda Lissner Competition, top prizes in the Licia Albanese and Elardo International Opera Competitions, and a Grand Finalist in the Metropolitan Opera's National Council Auditions. Ms. Dehn was also a winner of the George London Competition. Her discography includes Ravel: Intimate Masterpieces, released on the Oberlin Music label and distributed by Naxos America, as well as live recordings of Saint-Saëns' Henry VIII and Weber's Euryanthe at the Bard SummerScape Festival.

Ellie has enjoyed working with singers from the high school/ undergraduate levels through the young professional/actively performing singing artist level. She is thrilled set down some roots back in her native Twin Cities area and cultivate a private studio at MacPhail.
Mariah Mercedes Timm, guitar (Minneapolis)
Mariah Mercedes Timm is an emerging guitarist and singer-songwriter in the Twin Cities. They currently perform with Gully Boys and Boyish (NYC). They have led group and private lessons for guitar, voice, songwriting, and music production through She Rock She Rock, the Performing Institute of Minnesota, and their home studio. Mariah embodies the She Rock Nonprofit's mission statement to empower girls, women, trans, and non-binary folks through the art of music by working collaboratively with co-teachers to create an accessible and joyful learning environment for students of all skill levels.
They have attended Hamline University, Berklee College of Music, and McNally Smith College of Music in St Paul, Minnesota.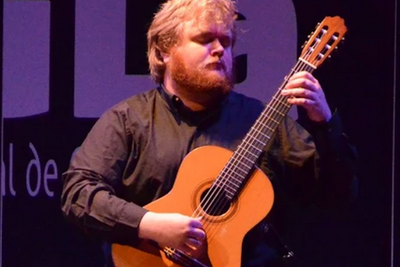 Austin Wahl is an internationally acclaimed performer and teacher. With nearly thirty competition prizes, including ten first place finishes, he is among the most successful of today's American guitarists. He embraces traditional and unusual repertoire in performance and competition, ranging from well-known works of Bach, Sor, and Tarrega, to lesser known masterpieces by composers including Gary Ryan, Robert Beaser, and Hans Werner Henze. Wahl premiered his groundbreaking solo transcription of Aaron Copland's Rodeo suite (originally for orchestra) in February 2021, and is currently composing a solo guitar suite based on notable international events of the Cold War.
Recent concerts and masterclasses include engagements for Rochester Classical Guitar (NY), Minnesota Guitar Society, Great Lakes Guitar Society (NY), Southern Guitar Festival (SC), Guitar Society of Toronto, Guitar Hamilton (Ontario, Canada), and Festival Internacional de Guitarra en Lagos (Jalisco, Mexico).
Wahl does not limit himself to classical guitar, or indeed to the guitar itself. Since childhood he has been a proficient bluegrass guitarist, performing arrangements and compositions by Doc Watson, Tony Rice, David Grier, and Adam Granger, among others. Wahl has performed with several bluegrass groups, including Great Vagrant, The Crooked North, and Kubick's Rubes, and performed with the first in a masterclass for legendary banjoist Béla Fleck. He also is an avid fingerstyle player, often programming pieces by Preston Reed, Don Ross, Andy McKee, and Pierre Bensusan. Finally, Wahl is an experienced electric guitarist, performing and teaching rock, blues, and jazz – and even built his own electric guitar, dubbed the "Wahl-o-caster."
Beyond the guitar, Wahl is an accomplished mandolinist. He performs and teaches classical and folk music on the instrument, including solo and ensemble works of J. S. Bach, American bluegrass, Irish fiddle, and Scandinavian traditions. Additionally, since 2017, he has served as the bass section leader for Rochester, New York-based community choir, the Mount Hope World Singers, who perform outreach concerts in languages and styles from around the world.
Wahl is a dedicated teacher across multiple genres. He strongly believes in the power of the guitar to transcend the style in which it is played, and to spark student interest in crossing between genres. Since 2015, he has taught Suzuki and traditional classical, acoustic, and electric guitar, as well as folk and classical mandolin, at the Kanack School of Musical Artistry in Rochester, NY. His students range in age from under five to over seventy, and represent diverse musical and national backgrounds.
Wahl began his guitar studies at age five at the MacPhail Center for Music in Minneapolis, with Alan Johnston, a founding member of the Minneapolis Guitar Quartet. He holds bachelor's, master's, and doctoral degrees as well as a performer's certificate from the Eastman School of Music, where he studied with Nicholas Goluses. Wahl has also taken the Book 1 and Book 2.
Shane Cox is a multi-instrumentalist performer, band leader, and educator in the Twin Cities. Shane has experience across many genres, from performing locally to touring and teaching. Starting his professional career right after high school, Shane immediately got experience playing on the streets of New Orleans for a year. He went on to teach private lessons in Germany, followed by a 7-year stint in the San Francisco Bay Area where he performed, taught with the San Francisco Symphony Orchestra, and recorded in a studio setting across different genres like funk, Balkan, jazz, cumbia, and more. Once COVID-19 hit and opportunities to play live music were more limited, Shane pivoted to start a music stream on Twitch at the beginning of the pandemic, where he still plays multiple times a week for a growing audience. Shane plays and teaches trumpet, trombone, and tuba, including improvisation, and ear training.
Music has been a part of Pamela's life since the age of 5. She earned her degree in music, specifically Voice and Vocal Pedagogy from North Park University in Chicago, Illinois, where she had many wonderful opportunities to perform. Some of her performance experience includes classical (opera), musical theatre, pop, and jazz genres. She was also blessed to have studied with the principal accompanist and coach of both the Chicago Symphony Orchestra and the Lyric Opera of Chicago. Post college, she spent 21 years teaching music in the classroom while beginning her 34-year-long private studio, Musicato. Most recently, she earned a certificate in Music Wellness/Therapy from Berklee College of Music, where she can work together to use music as an emotional or physical outlet! Regardless of the capacity, she looks forward to helping her students on their musical journey!
Rosa Thompson-Vieira, a native of Minneapolis, is a professional cellist and teacher in the Twin Cities. She has served as Assistant Principal Cellist of the Rochester Symphony since 2017 and has been on call as a substitute cellist for the Minnesota Opera since 2016. In addition to many years of orchestral experience, she also performs with touring professionals including Trans Siberian Orchestra, Michael Buble, and 2Cellos.
Thompson-Vieira has been passionate about chamber music from a young age. She serves as a cellist in Roma Duo with violinist Mary Alice Hutton. Roma Duo performs for a variety of events ranging from yoga classes to weddings, to art shows. She is also a cellist in the Delphia Cello Quartet and served as a Class Notes Artist for Minnesota Public Radio in 2018. As part of her teaching career, she received her Suzuki Certification from Jean Dexter in 2015. Thompson-Vieira uses a combination of traditional and Suzuki teaching methods. She is currently on the faculty at Sarah Jane's Music School and the Yinghua Academy since 2016
Thompson-Vieira was awarded her performance degree from the University of Minnesota studying under Tanya Remenikova, a former student of the legendary cellist Mstislav Rostropovich. Previously Rosa studied with Allison Wells at the Peabody Institute of Johns Hopkins University. She is currently working on her Master of Music in cello performance at the University of Minnesota.
Stacy Canino, piano and Sing Play Learn with MacPhail!® instructor, has a commitment to underserved communities, believing that music education for all is a very powerful tool to empower families and build strong communities.
Stacy has 15 years of private lesson teaching experience and teaches beginning through early advanced. She specialized in teaching the young beginner.
Her work with Community Partnerships includes PICA Head Start, ECFE (Early Childhood Family Education with Minneapolis Public Schools), Melsa (Metropolitan Library Service Agency), Jeremiah Program, New Horizon Academy, and Urban Arts Academy.
She holds a Bachelor of Music Education in Vocal and General Music. K-12 from the University of Wisconsin River Falls and a Master of Arts in Music Education – Orff Schulwerk Concentration – from the University of St. Thomas
Stacy is continuing to deepen her work as an advocate for social change through music. She's worked with She Rock She Rock, a non-profit organization, for 8 years. The organization hosts a summer camp and other programming for girls, women, non-binary and transgender youth and adults. This work has inspired her to live and work more confidently as a queer woman and LGBTQ+ advocate, and in all aspects of inclusive teaching and learning.