Part of Something Bigger, a healing collage (2021)
Thank you all for the amazing submissions contributed to the Healing Collage. Each and every single work is full of an abundance of creativity, love, and spirit and speaks volumes to the journeys their creators have gone through. Before you continue, please take the time to look at all the submissions again! Absorb the spirit of their messages, and try to fine what pieces resonate with you the most.
The amazingness of the MacPhail community is most accurately defined by the compassion displayed by the creation of its members. Thanks again for being a part of something bigger.
Voting closed June 17, 2021 at noon.
Thank you for your votes and for your support of these artists.
The 2022 Virtual Exhibit opens Juneteenth (June 19, 2022)
♪ Artist who received awards
Joe B.
(Adult Student)
Artist Bio
My name is Joe Bigalke, I have been playing piano since I was 2. I started songwriting at age 15. I have found a love in orchestral compositions. Music is extremely therapeutic in dealing with autism and my uncle suicide in 2018.
Artist Statement
During my last 34 years in music I have explored many different types of music but finding my passion in composing in Russian and Slavic music. I find with my composition Paper Airplanes the music echoes the ups and downs of the times we are in but also gives a sense of hope.
Paper Airplanes
♪ Sarina C.
(Young Student, age 17)
BLM Painting 
Artist Statement
This acrylic painting represents what I saw from an outsider's perspective of the Black experience in America, specifically around April 2020 with the murder of George Floyd. My goal of this piece was to emulate the emotions of anger, frustration, pride, and determination from the black community without filters for white comfortability. If you are uncomfortable, that is the point. As the Black Lives Matter movement has gained significant traction from the numerous racial events in Minnesota, I paint our city on fire to remind those that the whole world is watching us, and black lives still matter. The image of the burning American flag symbolizes the exposure and failure of America to address its values, "liberty and justice for all" for BIPOC citizens, in addition to the under-the-ground events the flag hides. Though some may feel offended or appalled by the images in my painting, if you are not black, invite you to step outside of the shoes you are used to and immerse yourself in the crowd. Racism is one of the foundations of America, and it lurks in almost every aspect of life for black Americans today. So, this painting is my take on black peoples' final liberation and release from a system never designed in their favor. I also forgot to add masks, which wasn't my prime focus, but I still support wearing them!
Juliette A.
(Young Student, age 12)
Violin
Natasha L.
(Young Student, age 13)
Hope

Ellen vI.
(Adult Student)
Minnesota Joy
Artist Bio
Ellen van Iwaarden is a MacPhail piano student and retired lawyer. She grew up in Marshalltown, Iowa, where she first studied piano and wrote poems. She studied poetry at Smith College in Northampton, Massachusetts, where she majored in government and economics. After college, Ellen met her husband Jim van Iwaarden in Washington, D.C. After moving to Minnesota, she graduated from the University of Minnesota Law School and practiced corporate and ethics law. Her love of justice led her to work for Legal Aid and she finished her career working with The Advocates for Human Rights. Ellen loves the warm studio Ginger Reynolds has created at MacPhail and she surprises herself with how much she practices! When she is not at the piano she loves gardening, cooking, volunteering, and outdoor adventures with her husband, family, friends, and dog Callie.
Artist Statement
During the trial of Derek Chauvin for George Floyd's murder, I worried a lot about the outcome. I believe in the rule of law–and that means that police officers can't just execute people they don't like or people who resist arrest. As a lover of justice and human rights, I've had my heart broken many times by our culture's deference to the police. One morning I imagined the joy I would feel if the verdict were guilty. That led me to think about the other things in my life that bring me joy–a wonderful exercise that helped get me through those anxious days.
Minnesota Joy
Sunrise-
Grand-baby-chuckling-
Coffee-club-meeting-
Dog-licking-face-
Bacon-frying-
Church-bells-pealing-
Hugs-
Bird-in-birdbath-
Snow-melting-
Screens-open-
Beethoven-banging-
Twins-grand-slam-
New-plant-planting-
Walks-
Daughters'-weddings-
Rainbow-over-lake-
Bread-toasting-
Lilac-smelling-
Sunset-partying-
Chauvin-found-guilty-
Joy
–Ellen van Iwaarden
Esther G.
(Young Student, age 12)
Artist Bio
Hello! My name is Esther! I am a 12-year-old aspiring author who enjoys writing (heh), listening to music, and more! I have a dog and two cats, one of which enjoys listening to my McPhail lessons, mostly the harp.
Artist Statement
The background information is honestly both simple yet complex. Antonia, an ex-general for the royal army, has retired to pursue a life with her friends and family. After hearing news that she might be dead, Thomas (Tom, Antonia's fiancé) and Alexandria (Antonia's younger sister) are by far shook. Not knowing what to do, they realize they have to go back to their only option.
Antonia's Impact
I smiled, hanging up a picture of Antonia. My fingers brushed upon the picture, and dust flew off. Nothing could ruin my joy. That was, until I heard a knock on my door. It was Philip. His face looked… sad. "What is it?", I asked. My brother remained silent. He handed me a letter. It was from an old friend of Antonia's- Commanding General Klara Saxe. Nervously, I tore open the envelope. And it said as such.
Dear Sir Heartstone,
I never imagined that I would have to write this letter personally. But I am afraid I must. Your fiancé, and my old assistant, General Antonia Elise Cove has been shot in the head, and in the ribcage by Lieutenant-Colonel Theodore Stilling. She has survived the blow, but has minimal chance to live, as she is having the bullets being removed as I write. I will do the best I can to make sure she is back on her feet and is returned back into your loving care. I give you my best wishes, and Stilling will be punished for this action.
Sincerely,
K. Saxe
I started to shake. This had to be a dream. Antonia was probably sleeping in an inn, dreaming of who knows what. A tear rolled down my face, and I felt my brother grab my hand. "It's going to be alright", he told me.. I didn't know how to respond. I couldn't respond. I could hear Alexandria crying. "You should go check on her", I told him.
"Only if you are alright with it", He looked me dead in the eyes. I hated to lie to him, but I told him to go. As soon as he left, I hid my face in a pillow. Tears wet it. Antonia was most likely gone. Everyone I loved always leaves me at some point. I at last sat up, and looked at a picture of Antonia. There was someone in the background…. It was Stilling. I tore the picture off the wall, and it came to the ground with a crash.. I never wanted to hear of him again. I took the engagement ring off of my finger, and set it on the nightstand beside the letter. That night, I couldn't sleep. Granted, Antonia could be alive. But I knew my luck. First my father, then my mother, then Philip- and now, Antonia. I told her traveling was dangerous- especially with her reputation. I should have warned her- or at least had gone with. I didn't know Stilling could do such a thing. Granded, Antonia spoke of him as a secretive, dangerous man. But he seemed to treat Antonia like a younger sister when she needed it. Then again, the Cove's had a….. Special way of treating family. Whatever was his motive, I had to deal with the moment. As the moon rose into the sky, I remembered Antonia had a spare arm in the dresser. I pulled it out. The metal arm was some ragged thing, but it reminded me of her. Deciding to clear my head, or well, try to, I decided to go to the living room. When I got there, I heard quiet sniffles. Turning my head, I saw Alexandria's face hidden behind a half-empty bottle of liquor. "Tough night?", I chuckled slightly. Alexandria lifted her head to look at me. Her eyes were red, tears shining on her cheeks. I started to walk over, to find Dimitri there as well, but sleeping on the dining table, snoring slightly. I sat down next to Alexandria, and poured myself a glass of the liquor. Alexandria was not one to drink often, and I somewhat understood how she was feeling. It would be the end of the world for me if Philip was in Antonia's place. The two of us were quiet. I drank a little bit, sighing as I put the glass down. "I don't know what to do", Alexandria looked at me dead in the eyes, her voice cracking.
"We can prepare for the worst. It's going to be alright in the end", I told her, "I promise"
"But how can you promise that!? Antonia could be dead, and everyone is to stupid to even make sure if she is alive!" Alexandria's glass cracked slightly in her hand. "I know. We've seen, and dealt with more than this. I'm not calling Antonia worthless, but she wouldn't want us to work ourselves up. I know it's hard right now- but we all have to stick together", I put my hand on her shoulder, but she pulled me into a tight embrace. "Thank you, Thomas. I see why Antonia chose you"
Jana F.
(Professional)
Artist Bio
Former Suzuki parent now adult violinist. Student with Jeremy Swider and past violinist with New Horizons and Golden Valley Orchestra.
Involved in the arts as photo Journalist, photography instructor and freelance media publications.
Artist Statement
Searching for Highlights is a photo narrative of finding hope in trying times. The light plays on the water as notes on a score, natures harmony.
The melody is one we each make to heal and survive day by day.
Searching for Highlights
Annabelle A.
(Young Student, age 8)
The River
Artist Bio
My name is Annabelle. I have been practicing piano for four years. Peaceful pieces are my favorite, because they make me feel relaxed and calm.
Artist Statement
This piece is the first song I created by myself. I made it for my mom. When she hears it, she always feels very good. I hope when you hear it, you will see the flowing river in your mind, which will make you feel peaceful and help you heal.
Megan H.
(Professional)
Artist Bio
I have been playing the piano since I was three years old, and have always loved the opportunity to make my own arrangements – even from a young age. This particular piece of music is healing to me as it reminds me that no matter how hard life gets, there is always hope at the end of the tunnel. This is my own arrangement of this famous hymn – no sheet music inspired its creation.
Come Thou Fount Of Every Blessing
Grant P.
(Young Student, age 14)
Peaceful Country Home 
Artist Bio
I am 14 years old and like the peace and quiet of the outdoors. During the pandemic, I have learned to kicksled with my husky dog Bingo. I also enjoy hiking, camping, music, and family time.
♪ Amanda Y.
(Professional and MacPhail Staff)
Artist Bio
I am a local Singer-Songwriter and a new Student Services Representative here at MacPhail. I've been singing since I was a toddler and I started covering and writing songs when I was 14. I write music to connect with others on a deeper level whether that is through celebration, sadness or healing. When people hear my music I want them to know that they are never alone in their rollercoaster of emotions.
Artist Statement
During the pandemic many people found themselves questioning their purpose in life. We were all confined to the walls of our homes. It was lonely. As a collective we experienced some of the darkest times this generation has probably seen. This is a song to remind you and me that there is ALWAYS a light at the end. That the pain, loneliness and circumstances will not be forever. The emotions we feel are never permanent. You're not alone.
Be Alright
George Y.
(Young Student, age 8)
Artist Bio
Hello! My name is George, I like piano lessons with my teacher. I started my piano lessons when I was 5 years old. For fun, I do drawing, painting and composing my own songs. Music and drawing always make me happy and calm.
Artist Statement
Music is all around us and make us calm and happy. Music is something everyone can learn, enjoy and create! Music can help us understand each other, can help us to learn the different cultures around the world. Though we may come from different places, look unalike on the outside, play unsimilar instruments, music is the common language we all can speak, it has the irresistible power to heal and unite us together
♪ Elisa F.
(Young Student, age 9)
Artist Bio
Music has been part of my life since I was two months old. I've been playing piano and flute since I was 5 years old and singing since I was 2 years old. More recently I started composing my own pieces, which I really enjoy.
Artist Statement
Nature gives me hope, it inspires me and triggers my creativity. Nature is kind, and it's also fair. We can learn a lot from it, and we should do all we can to preserve it. In this year of public health and social crisis, we have been able to turn to nature for as a refuge.
The Flowing Stream
Tamara G.
(MacPhail Faculty submitting as an amateur)
I am Right
Artist Bio
Tamara Gonzalez is an amateur poet and professional musician. She teaches Suzuki violin & viola lessons at MacPhail, conducts the Suzuki DaCapo and Sinfonia orchestras and works with students at the Ascension Catholic School partnership as well as MNYO.
Artist Statement
I often write to help me process the world. This was written during in response to the extreme polarization that we experience every day in the media and with our peers and community members.
I am right
Has there ever been, a greater sin
than to know
I
am right
To take a whole and split it into two
opposing; imposing; enforcing factions
And what of those who are wrong?
Humiliation, Subjugation, Retaliation
There has never been a knife
That cut so deep a divide
No bomb that blew a chasm so wide
In the unity of the human spirit, than
I
am right
I cannot recall a single act,
in its name
that did not cheapen the whole
The city of lights burns in the night
Children wash up on foreign shores
In the name of the
ever living, Never loving, ever lasting
I
am right
George M.
(Adult Student)
Artist Bio
Adult student of Jeff Lambert. Professor at the University of Minnesota School of Public Health.
Artist Statement
This piece gradually composed itself during the pandemic. It originally started with a feeling similar to the music from the X Files TV show. Which seems appropriate for these times, given the uncertainty we have all faced recently about the truth of many things.
The Truth is Out There
Kris P.
(Adult Student)
The Technological Song
Artist Bio
This is my 58th year as a singer. The pandemic attempted to take away something that is as important to me as breathing. But through the miracle of our technologically talented community members… singing did in fact happen this year. So I will have a 59th year of singing…something I do because it allows me to communicate with others, in church, in recital halls, in nursing homes where I have been a volunteer singer. Music is one of the highest art forms that makes us human, and it is at the core of who I am.
Artist Statement
When I first heard that a choir had spread covid to its members I knew we were in for trouble. I knew I wouldn't be able to gather with my singing friends, or my treasured teacher or be able to sit in an audience and hear singers far more talented then me. But technology, not my favorite thing, saved me and I am sure countless other singers. I sang with Eric Whitacre, my lessons continued uninterrupted, recitals ramped up via zoom, I was gifted opera tickets to onsite opera…. where via zoom I was able to directly talk with a professional singer in New York City and hear about a professional singer's experience during the pandemic and ask her questions about her practice as a singer…( hint: she runs and sings her entire role to make sure she can do it on stqge!) And then hear her perform and listen to the composer explain her work. A pandemic gem as I have called them. But even with all of that, it is painful to see a year slip by as I age. I ache for the performers who were all set to sing on Broadway who had a year stolen from them. A year of singing, a year of income, and in some cases a year of health. I am grateful to be healthy, to be vaccinated, and to see our world slowly open up, share vaccine and singers again take the stage.
The Technological Song
Usually my voice would travel directly from my throat and heart to your ear.
The waves in the air invisibly drum on your ear.
The walls of the recital hall would throw the sound back to you and to me.
The thrill of communication by song, beyond the written word, or painted canvas.
But this year, a germ so tiny that all of it that infected the whole world would fit into a coke can…..
So small but so large it silenced every hall, every voice and muted every ear.
The notes waited, impatient, created by people I've never met.
Communication, stunted and stopped.
The pain of a voice, unused and words unsung.
But saved, by wires and microphones, and an internet I can't understand.
Singing with people from all over the world united in our desire to sing again.
Choirs, usually so social, persevere. They unite, invisibly in the air. A little tinny in sound, but its singing after all.
My tears that erupted when I realized it would be a year, maybe two, maybe three before my choirs, my havens, would reunite.
The IT specialists made it happen, so creative in such a sterile way, enabled us. Made music continue.
Technology, my obstruction became a haven. Wires, microphones, computers, canned accompaniments. Saved me. My aging voice, unwilling to give up even a single year of singing. Sang. With joy, with trepidation.  Even the minute virus, can't steal the music.
Kris Potter 2021
Jane T. and Melissa W.
(MacPhail Faculty)
Artist Bio
Jane Tate and Melissa Wenszell are Board Certified music therapists at MacPhail. Melissa is a co-founder of the Music Therapy Dept. Jane also teaches in the Sing, Play, Learn dept. and the Music for Life Program.
Artist Statement
Melissa and Jane wrote this song for the Andrew Residence choir "Voices Heard" as a way to reflect on how difficult the Pandemic has been especially in long term healthcare. Andrew residence is a residential healthcare home where MacPhail Music Therapy has been in partnership since 2016. Voices heard choir is a favorite group among many residents. This song is dedicated to the tireless efforts of the staff and residents during what has been an extremely tough 15 months.
Samara S.
(Young Student, age 16)
Flower Petals and Time
Artist Bio
I do a lot of mixed media work surrounding my emotions and warped views of the world around me. I was never quite good at being literal and that carries through a lot in my pieces.
Artist Statement
This piece I made with lilacs from my garden that had gone brown. It is in a way a piece representing the beauty in things gone bad. It's mixed media, made with pastels and inks (and flowers). The splotches of berry red ink were inspired by droplets of blood and they fade into gold. I used this to represent humanity's unfailing ability to turn pain into art and back again. This piece sees the sweet in the sour and the rainbow after the storm.
Brittany W.
(Adult Student)
Peace in the Stillness
Artist Bio
Brittany Wundermachen has been a viola student at McPhail for almost 3 years. She is a Minnesota transplant who has a few too many houseplants.
Peace in the Stillness
You who fear the void
Why does it trouble you?
The surrounding darkness
Offers unimaginable peace
To those who surrender.
An idea so often missing
Amidst the turmoil of the world.
We are consumed by noise,
By the virulent cacophony,
By the clamor of voices and machine.
We have been born into a chaos
That we have accepted as normal;
We do not dare to escape
As the hum of the dirges become our hymns
Echoing as a soundtrack to our very existence.
There is a soulful serenity
For those willing
To search
Their own mortality
To confront
To break the chains of bondage.
You, whose soul is conflicted
But yearn to be free
There is bliss in the stillness.
♪ Yue W.
(MacPhail Faculty)
Artist Bio
I have been working as a music therapist at MacPhail and was touched by the clients and their families that I work with. Their stories and emotional journeys are full of color and worth to be told. Reflecting on my own background growing up in East Asian and the stigma towards people with disabilities and their families, I want to share these stories and let other families who are affected by disabilities know that they are not alone, and their lives are worth to fight for.
Artist Statement
Disabilities, especially intellectual and developmental disabilities are often left out of the social justice discussions. We interviewed many families who are affected by disabilities and learned about their emotional journeys, challenges, and joy. This music piece is part of an hour-long multi-sensory performance that creatively telling these authentic stories through music.
At the beginning, you will hear the strings mimicking the sound of breathing in and out, anticipating a new life. Then out of nowhere, an off note emerges… something is not quite right… you try to ignore it and stay positive however, the off note becomes louder and stronger. When you cannot deny it anymore, anger slams in. You will hear the pounding and screaming of the strings piercing our ears and giving us a headache. You start to bargain: I'm a good person
I did everything right
why is this happening to me? You will hear in the music a conversation going back and forth between different instruments. All the questions and confusion throw you into depression. You wonder if things will ever get better. But then there is a heartbeat. You will hear the toy instruments representing the innocence of the child, and the life is worth celebrating. The love theme is fully developed and growing with the child, until finally, you reach the final stage — acceptance. You have arrived at a life that is full of hope and purpose. And the joy that comes after sorrow is richer and deeper. You will hear all the instruments join together playing a sweet melody.
The multi-sensory event, Light in the Well, will be performed at MacPhail with live orchestra this coming fall. The specific date and time are being finalized. Please stay tuned, come to experience these stories and celebrate life!
Light in the Well
Emily L.
(Young Student, age 11)
The Light of Hope
Artist Bio
My name is Emily Lei. I am 11 years old and I have been learning piano since I was 5 and violin since I was 7. in addition to music, I like winter sports, painting, and reading.
Artist Statement
I think this piece shows that even in the dense winter forest of COVID 19, the light of hope still shines through. Although hope is not a strategy, hope motivates us to take action to bring upon change.
Hannah G.
(Young Student, age 17)
Breonna Taylor Matters
Artist Bio
Hannah Graff just graduated from high school. She is involved in many things at her school, including music, tennis, Mock Trial, Personal Finance, tap dance, and volunteering. Although she hasn't taken an art class beyond 7th grade, she still loves to create in her free time.
Artist Statement
The beauty of this piece draws on its simplicity. Amidst the fear, anger, riots, standstills, and protests, there are precious lives forever altered. There are people forever changed. Black Lives don't just Matter. They are worthy. They are beloved. They are needed. Breonna Taylor was a young African American killed in her sleep by police. I drew her on a grayscale to show many symbols – darkness, depression, emptiness. Her deep eyes encapsulate the loss we all feel. Yet there is a dichotomy between the darkness and the light her lips are colored-in because she is still speaking. Using pink as a symbol of love, Breonna is a face of a revolution, and we will continue to #sayhername until justice speaks.
Micah C.
(Adult Student)
Artist Bio
I am an Uchinanchu (Okinawan) American who teaches high school math and loves music. This song is from a duo with my friend, Chris, in a project we call Heart MTN.
Artist Statement
We improvised the music to "Drive On" while social distancing in my basement during the month of July 2020 after being apart for a long, confusing quarantine; requisite uncertain feelings about the future in abundance. The melody and lyrics were written a few days later as my brother drove from Indiana where he was quarantined with my parents—doing grocery runs for them—back to his apartment in San Francisco.
♪ Ryan D.
(Adult Student)
Artist Bio
Ryan will be attending Carleton College next year to study music and environmental science. He has sung all of his life and has been playing guitar and writing songs for over three years.
Artist Statement
Growing up, I often felt overwhelmed and depressed. Sometimes I couldn't fall asleep or get up in the morning. This pandemic has made that harder for many. I wrote this song to remind myself and everyone out there that you can find joy if you know where to look. I found it playing guitar and clarinet late at night, walking in the woods with friends, and writing my heart out whenever things felt like too much. I hope this song helps someone as much as it helped me to write it.
Ava M.
(Young Student, age 10)
The World Is Healing
Artist Bio
I love art! Painting, drawing, collage, found object sculpture (especially when I can use my hot glue gun) are where I feel the most at home. My mom converted our laundry room to an art studio where I can be myself and I love it. Also, I make music and have been doing Suzuki cello since I was almost four years old at MacPhail. My curious nature helps me find beauty in unusual places.
Artist Statement
"The World Is Healing" is inspired by personal experience and what everyone has gone through recently. Like how my skinned knee goes through the many steps of hurt, bleeding, scabbing up, being itchy and painful when I move my knee, to finally healing up, everyone in our world has gone through a similar process over the last year. My mixed-media collage represents that process. Our world isn't perfect but it is healing as we try to make each day better than the one before.
William M.
(Young Student, age 8)
I Am Every Color
Artist Bio
I am a kid who mostly enjoys art in the form of video games. That's art, right? Usually I doodle characters and places from Super Mario. Just when you think that's the only place I get my inspiration from, I'll surprise you and draw something from Minecraft. Oh, and I make music through Suzuki cello lessons at MacPhail since I was 4. I play a mean French Folk Song!
Artist Statement
"I Am Every Color" is a self-portrait. I did it during the COVID-19 pandemic (you can tell by my 'COVID hair' – not short and not long either). I go to a school that teaches global citizenship and we have kids of all colors. My painting shows that even though we may look different on the outside, we are all people with similar needs and wants on the inside.
Scott M.
(Professional)
Artist Bio
I am a family man/finance director who likes to play 'rock star' with a few other dads. I played bass guitar in three bands throughout college that all performed once and never again. Determined to avoid that fate, I now play guitar in a tribute band to The Killers and The Strokes. MacPhail has supported me in that endeavor through both guitar and voice lessons.
Artist Statement
Our dad band had several gigs lined up for 2020 when the pandemic hit. Not wanting to let go of the dream of playing in a rock band, I sought virtual viral-free opportunities for us to jam and discovered JamKazam and GarageBand. The rock music of the 1990's was filled with driving, pop-infused, smoothly-distorted that just made you feel good. Better Than Ezra's "Good" is a perfect example. We recorded this cover remotely via sharing GarageBand files. Tom played bass, drums and did the mixing, Charlie did the vocals, and I did the guitar. The lyrics make reference to a vacant home which, given how every family member was at home all the time during the pandemic, provides the feeling of much-sought-after solace of personal time and space.
Better Than Ezra's Good
Mollie P.
(Professional)
It's Going to Rain
Artist Bio
I am retired from the Edina Art Center as Assistant Director and have been working as a professional artist. I have 28 paintings that I did commission for Children's Hospitals in Minneapolis, St. Paul, and Louise Packard Children Hospital in in Stanford, California. At Pax Christi Catholic Church in Eden Prairie there is a religious icon displayed in their chapel that I painted. There are numerous places that I have displayed my work and have won recognition in Art exhibitions locally and in Florida.
Artist Statement
My work usually reflects life in my world and the people and places that I love.
Kamila G.
(Young Student, age 17)
Artist Bio
hi, all! i'm kamila, a 17 year old from the twin cities. i've only recently started seriously songwriting, but i've been playing around with the craft since i was ten. it is an art that has always managed to be present and dear in my life, making it all the more exciting that i am now sharing my first full project with a vast group of people. thank you for this opportunity! i hope you enjoy. God bless.
Artist Statement
sometimes, when we get caught up in ourselves and our problems we unknowingly drag other people down into our ruts. it isn't something we necessarily do maliciously, but rather something that happens. butterfly is an apology letter, leaving the door open for a second chance.
butterfly
Mia W.
(Young Student, age 16)
Artist Bio
Hello! I am a Prelude Singer Actor Lab member at MacPhail and have taken many music/voice lessons at MacPhail throughout the years. Along with my studies in guitar and voice I have started writing and composing songs! I hope to start recording and sharing more of my music soon.
Artist Statement
Many of us have felt a shared sense of grief this past year. We lost family, friends, and community members to violence and sickness. We've felt the stages of shock, denial, anger, and sadness. In this piece though, I talk about acceptance and moving on, our next step. I find that it is easy to dwell on the past and the negative emotions we feel, so I wrote this as a reminder to take a deep breath and keep moving forward. Enjoy!
Bridget O.
(Professional)
Tree Book
Artist Bio
I am a visual artist and papermaker. I am an adjunct professor at the Minneapolis College of Art and Design, and a teaching artist at the Minnesota Center for Book Arts. I love making things with my hands. A several years ago I decided that I wanted to understand music better and learn to play the guitar. It has been a slow and steady journey. The most unexpected discovery for me has been the commonalities between playing guitar and paper making. There is a flow and rhythm and repetition and pacing that is at the deepest core of each of these worlds. How comforting to find these old friends in both places. Or, really coming to realize that these worlds aren't separate at all. The language may be different, but it's all coming from the same place.
Artist Statement
Everything has a story: the tree, the paper, and each one of us. This tree's life story is recorded through yearly growth rings, the remains of a bird nest, the crumbling wood. The hollowed out core suggests a rough history.
The pages of the book, not yet written on, contain the paper's narrative. Handmade paper is made from plants and intimately is connected to time, the passing of time, the cycle of birth, life, death, rebirth. The plants used to make the sheets have gone through a transformation from plant to pulp to finished pages now bound together. The story of the sun, wind and rain felt by the plants become the spirit, texture, sound and ruffled edges of the pages.
It may look like an empty book, but every fiber tells its story. What is your story?
♪ Lydia K.
(Professional and MacPhail Staff)
Koi Spirit
Artist Bio
I am an artist, designer and illustrator,, and activist as well as a Student Services Representative at MacPhail. I am currently aspiring to become a children's book author and illustrator.
Artist Statement
This is an illustration I created in the midst of pandemic of hatred towards AAPI people in America. To me, it signifies a connection with ancestors, as well as unapologetic joy and pride in AAPI heritage, specifically Japanese heritage. Creating this piece brought me joy during a time of a lot of anger, sadness, frustration, and grief that I (and many others) was experiencing as a result of the increase in anti-Asian hate crimes rooted in white supremacy. This painting is also an homage to my grandmother, who lost her life to a tsunami in Japan in 2011. I hope this painting can also help others to feel pride and joy in who they are and where they come from when they see it.
Mikalia B.
(Professional and MacPhail Staff)
Artist Bio
Mezzo-soprano Mikalia Bradberry is a recent graduate of the University of Minnesota with a Master's Degree in Vocal Performance. Ms. Bradberry was born in Oklahoma City, Oklahoma to Niagara Falls natives and received her Bachelor's Degree in Vocal Performance from Abilene Christian University. Bradberry prepared the roles of Carmen in Bizet's Le Tragedie de Carmen and Madame de Croissey in Poulenc's Les Dialogues des Carmélites for the University of Minnesota's opera program for the '19-'20 season. She also prepared the role of Lucretia from Britten's The Rape of Lucretia with An Opera Theatre in the spring of 2020. Additionally, Ms. Bradberry is a DEI committee member for OOPS MN and is a teaching artist for An Opera Theatre in Minneapolis. She is a former student of Dr. Julie Pruett, Adriana Zabala and is a current student of Victoria Vargas.
Artist Statement
What you are about to witness is a live healing process, happening in real time. It is a process that black people have embodied as a means of survival for centuries in the face of oppression: pick yourself up, dry your tears, breathe, smile and go on. What you won't see is the breakdown that came from the piece I sang just before, "Minstrel Man", a Langston Hughes poem akin to Paul Laurence Dunbar's "We Wear the Mask". It speaks of the heaviest point in our history to say the least. Our history, American History, World history. A history that continues to creep from the shadows and into the light of day as it did on May 25, 2020.
"Dream Variations", which you will hear in a moment, is somewhat the opposite. It is the joyous scope of humanity that is so often forgotten, overshadowed, and ignored in black experience. It is the gentle breeze of an afternoon flowing through the beads in my hair when I was a child and the beauty of being black. It is the embodiment of the courage and determination it takes to swallow your tears (swallow your larynx as best you can if you're a singer who just cried) and look to the life that you've been given. It is joy.
Thank you to Margaret Bonds for being all that she was in this work, especially in a time when black women were even more unseen and unappreciated in this world. Thank you to Langston for being Langston, of course, and to Dr. Mary Trotter for being at my side and giving me the support to be my most authentic, imperfect self on a stage.
Lasse C.
(Adult Student)
Artist Bio
I am a pianist first and a drummer second, usually playing music in an improvisational manner. This fall, I am heading to William Paterson University in Wayne, New Jersey.
Artist Statement
I believe mixing together different mediums of art can create a stronger message than only one. That makes sense right? That's what I'm trying to accomplish here. I've done this before with pictures, video, or text, but this is my first time with speech. What you are hearing is actress Sandra Oh reading an excerpt from civil rights activist Yuri Kochiyama's "Then Came the War" recalling Japanese Internment. As a half-Japanese person myself, I felt that there was an even stronger message to be conveyed in using her experience. I found her words to be uncannily similar to those I've had this past year, despite the separation in time. I hope you will, too.
"I Was So Red White and Blue"
Hallie L.
(Young Student, age 14)
A Starburst of Color
Artist Bio
I am 14 years old. I started playing flute in 4th grade and have now been playing for 5 years. I love playing both classical and contemporary music.
Artist Statement
During the pandemic, my flute was a companion. I played on my balcony for others and in my apartment for myself. My music is how I express myself and my creativity. My music brought color to my day. That is what this drawing represents.
Susan H.B.
(Adult Student)
Inside, Looking Out
Artist Bio
I have been interested in the arts for as long as I can remember, and earned a BA in Studio Art, a master's degree in Arts & Literature, and completed extensive music performance study at the college level. After graduation, I spent many years in arts administration and am just now, being retired, getting back to producing original work of my own. I enjoy attending the MacPhail "Unwrapping Music" series and look forward to live performances returning to MacPhail.
Artist Statement
2020 brought many challenges to my life as to many others, not the least being confined to my home due to Covid where I could only watch as the movement towards social justice gained traction and division reigned in our country. My painting depicts the feelings of a life suddenly off-center, of being isolated and imprisoned by a raging pandemic while so much was happening.
Andie O.
(Young Student, age 13)
Helping Hand
Artist Statement
I was inspired to make this piece decorative, while still being practical. Though the mask mandate is being lifted, I still bring mine with me wherever I go.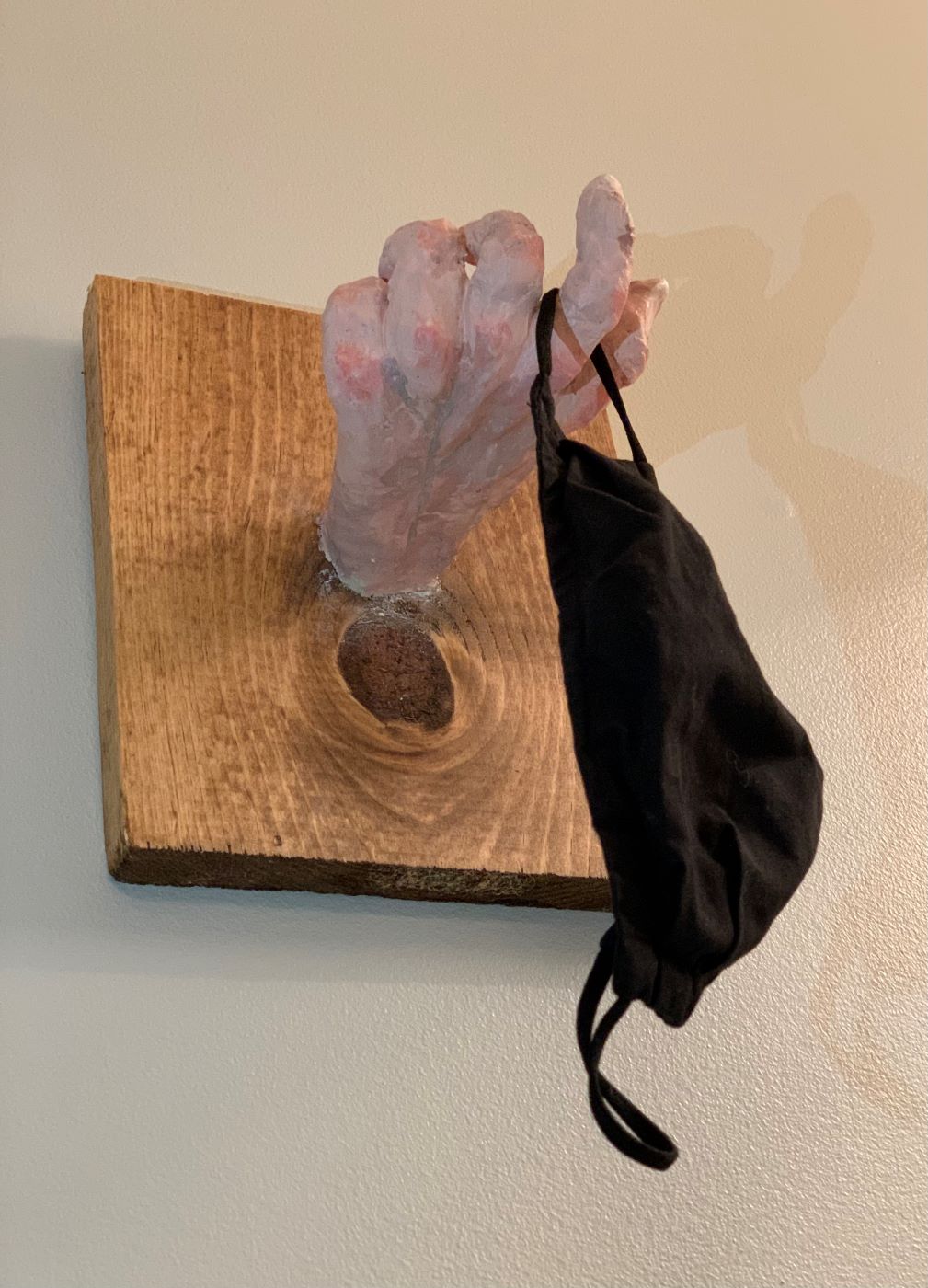 Ande Q.
(Adult Student)
Artist Bio
My name is Ande Quercus and my pronouns are they/them/their. I am a disabled activist and eclectic artist who enjoys hugging trees and dressing as a Lorax. My last name means "oak tree." My favorite way to hug people long-distance is through what I like to call "tree mail." I will hug a tree, ask the tree to pass it on, and then tell a loved one to pick up my hug at the first tree they see.
I taught myself how to to animate digital drawings about 6 years ago. I also express myself through gardening, embroidery, whittling, light carpentry, nonfiction writing, creative problem solving, volunteer work, and playing the flute. I actually just started playing the flute again last month after 25 years off!
Artist Statement
This video is an ode to my personal connection with trees as well as the general connection between trees and humans. It is a reminder of our similarities and our potential to live in community together. We are all made of basically the same stuff, we all rely on community, and we all need to breathe and grow. I never feel alone in the presence of trees.
This video is a self portrait piece. I included a silent audio track because I am hard-of-hearing and the world is very quiet to me when I'm not wearing my hearing aids. I used an unusual aspect ratio because I don't fit well in most boxes.
In the interest of making this piece as accessible as possible, here is a description of the content:
The audio is silent for the duration of the video.
The visual component begins with a drawing of a deciduous tree with green leaves and a brown trunk. White text over the tree reads, "Ande is a Tree, a self portrait by Ande Quercus."
Text fades out. The tree separates into multiple pieces that rearrange and change hue to produce a drawing of my head.
This drawing shows my face with light colored skin, sandy colored hair, blue eyes, black rectangular glasses, a wispy mustache, a smile, and a goatee.
The image of my face separates out again and returns it's parts to the original image of the deciduous tree.
♪ Jessica S.
(Adult Student)
Beyond The Highest Star
Artist Bio
I'm a piano student of Jose Uriarte and also teach piano to young beginning students. Although I am a student of music, I love art in all its forms. In the last few years, I've been exploring the visual arts and taking classes to learn about different mediums, color theory, and other techniques. Art has been therapeutic for me especially during the pandemic, as it encourages me to be mindful, observe the world in a different way, and appreciate the colors in nature.
Artist Statement
Nothing makes me feel more connected to the vastness of the world than looking up at the night sky, especially pondering the measureless universe with its multitudes of galaxies. It reminds me that the world is so much greater than our individual lives. The steadiness of the sky eases my anxieties and calms my soul in the midst of an uncertain and tumultuous world.
Heidi P.
(Young Student, age 16)
Woof Wagon
Artist Bio
Violin student, ukulele beginner, and dog owner!
Artist Statement
I bought this paint by number at the beginning of quarantine and finished it in the past week. I think it embodies all the hobbies people have taken up since last March, including all the new "pandemic puppies" many people got because of their now-abundant free time. I am one of those people, since I also got a husky during the pandemic! Dogs are great companions to have during this difficult time. They really are man's best friend.
Atticus B.
(Young Student, age 10)
The Good and The Bad
Gene B.
(Adult)
Arrangement With Three Toilet Paper Tubes
Sarah M.
(MacPhail Faculty)
Artist Bio
I have been a teaching artist at MacPhail since 1997, honing my compositional skills while mentoring students in composition, piano and music theory. Many of my students have received awards in composition contests both state-wide and nationally and have gone on to pursue collegiate studies in music.
In my personal growth I have pursued many grants and commissions since arriving in Minnesota. I am currently at work on my third State Arts Board Individual Artist Grant. This one, "Musicians in Motion at Mia" was originally conceived as a set of pieces inspired by art works at the Minneapolis Institute of Art to be performed next to those art works. Eventually that will happen, but in the meantime I have adapted the project to be presented online and wrote for solo and duo instruments in order to enable social distancing. The Minneapolis Art Institute provided professional audio and video recording technicians who have created especially fine representations of the pieces. These should go live at artsmia.org in the near future.
Artist Statement
I live my life on the knife edge, propelling myself into the future. Each experience, whether composing, collaborating with others, mentoring young artists, or attending a concert or play, hones my skills and focuses my compulsion to explore novel ideas and bring them to fruition. As my knowledge expands, my intuition sharpens, and I become ever more capable of composing compelling works.
The larger works I have written often focus on social issues, because I am passionate about using my creative energies to address worldly concerns. In 2016 I received a MacPhail Artist Grant to create A State(ment) of Grace. I collaborated with three dancers to shape the piece. They created the choreography and I composed the music. We also created a spoken-word script to accompany the dance and music. The resulting work features those 3 dancers, plus 4 singers and a cellist.
I have chosen "Prayer" from this 22-minute piece for the MacPhail Healing Collage because the message is pertinent and the piece is a collage of brief quotes by various authors culminating in "a miracle is when one plus one equals a thousand."
The pandemic brought many challenges to daily and professional life. I attempted to learn something new each day to meet those challenges by drawing on my creativity and adaptability, and in that way to continue my search for beauty and joy in daily life.
If you would like to view the entire piece, you may see it at: https://vimeo.com/191689343
♪ Aayush R.
(Adult Student)
Artist Statement
The piece, There Will Be Rain, is extremely special to me as no type of weather is more soothing than gray skies and rain. Rain for me represents tranquility, serenity, and peace. The work begins with the pitter pattering of raindrops which builds into a storm. The storm then subsides only to come back more violently then suddenly fades away to reveal the pitter patter of raindrops which slowly fade out to close the piece. This progression represents the beauty of rain to me because as violent as a rainstorm will be, there will always be a rainbow and it will give way for life, old and new, to flourish. For me, this same concept applies with any challenges in life and is especially true for the pandemic as with the storm of all the challenges faced, we become more appreciative of what we have and the people in our lives especially as it is coming to a close in America.
There Will Be Rain
♪ Emma F.
(Young Student, age 14)
Connecting with Nature
Artist Bio
Hello I'm Emma! I've been playing piano since I was quite young, but was introduced to MacPhail a little over a year ago. When I switched to MacPhail it really helped me view music from a new perspective. Some hobbies I enjoy in my free time other than piano are painting, baking, and spending time outside. Painting and drawing are something I always look forward to doing and a strong passion of mine.
Artist Statement
In times where we're struggling with isolation and filled with concern, nature can very a comforting friend. Spending time outside can be so healing in a way that anyone can take benefit from.
Within this piece you can see how even in tough times we all deserve to take a step back and have some time to ourselves to reflect and calm down. What a better way to find inner peace than surrounding yourself with positive energy from plants and nature. I hope you can relate to this idea through my piece and connect with it.
Pinar B.
(MacPhail Faculty submitting as an amateur)
Rainbows in the Smiles
Artist Bio
Pınar Başgöze has been a piano instructor at MacPhail since 2007. A dedicated teacher, solo and chamber music performer, Pınar is a firm, to the point, but extremely caring teacher who has 30 years of teaching experience. She is a member of Duo Harmonia, formerly known as Başgöze-Pinto Piano Duo, founded in 2008 with pianist and a MacPhail Faculty Susana Pinto. Pınar also loves writing as a hobby. She writes poems recreationally to reflect and relax.
Artist Statement
This poem is a reflection, an impression of how I personally found strength to survive, to keep on going and to continue radiating spark to my loved ones, family, friends, students, my community. I discovered light and hope every day in little things such as, my children's laughter, my students' smiles, my neighbors' conversations, my mother's eyes, my sister's cello playing, my father's singing, my husband's piano playing… It was the rainbow I have seen in their smiles that kept me going.